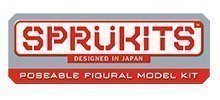 Sprükits
Sprükits are a line of Bandai figures designed in Japan with characters from video games and comics, which you can assemble by yourself, achieving a fully articulated and well finished figure.
There are various levels of difficulty assembling under item chosen, and therefore varies the number of pieces.
No need to use scissors or glue.